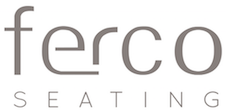 Ferco Seating Systems Ltd
| Contract Furniture
| Outdoor Furniture
| Workplace Furniture
| Showroom

Ferco Seating / Quinette Gallay / K+ Seating / Kotobuki Seating Group
Ferco Seating Systems was established in 1983 as a seating company. Today we are an international company headquartered in the UK, with manufacturing facilities in Malaysia, and a network of agents in Europe, the Middle East, Southeast Asia and the Pacific Rim. We joined Kotobuki Seating Group in 2016.
Since its foundation in 1914, Kotobuki Seating Group has been manufacturing and providing seats and multipurpose seating solutions all over the world, mainly in public spaces. It is now the largest public seating furniture manufacturer in the world, with offices globally including: Tokyo, New York, Chicago, London, Paris, Hanoi, Taipei, Seoul, Kuala Lumpur, Mumbai, Melbourne, and Barcelona.
One of the members that stands out within the Kotobuki Group is the high-end French company QUINETTE GALLAY, as one of the great reference brands in Europe. Today, QG looks to the future with the incorporation of multi-functional systems, mobile seating, underfloor storage, and telescopic platforms, as well as numerous system developments.
The latest addition to the group is K +, KOTOBUKI Seating Spain. Born under the concept of "Ideas Laboratory" to promote the development of new solutions in the group's product range. Its location in Barcelona, supported by the best design and engineering clusters, provides freshness to the long experience of the group.
Showroom Address
Unit 413 Clerkenwell Workshops, 27-31 Clerkenwell Close, London, EC1R 0AT