01 May 2019
10 Years on – Bowsers New Home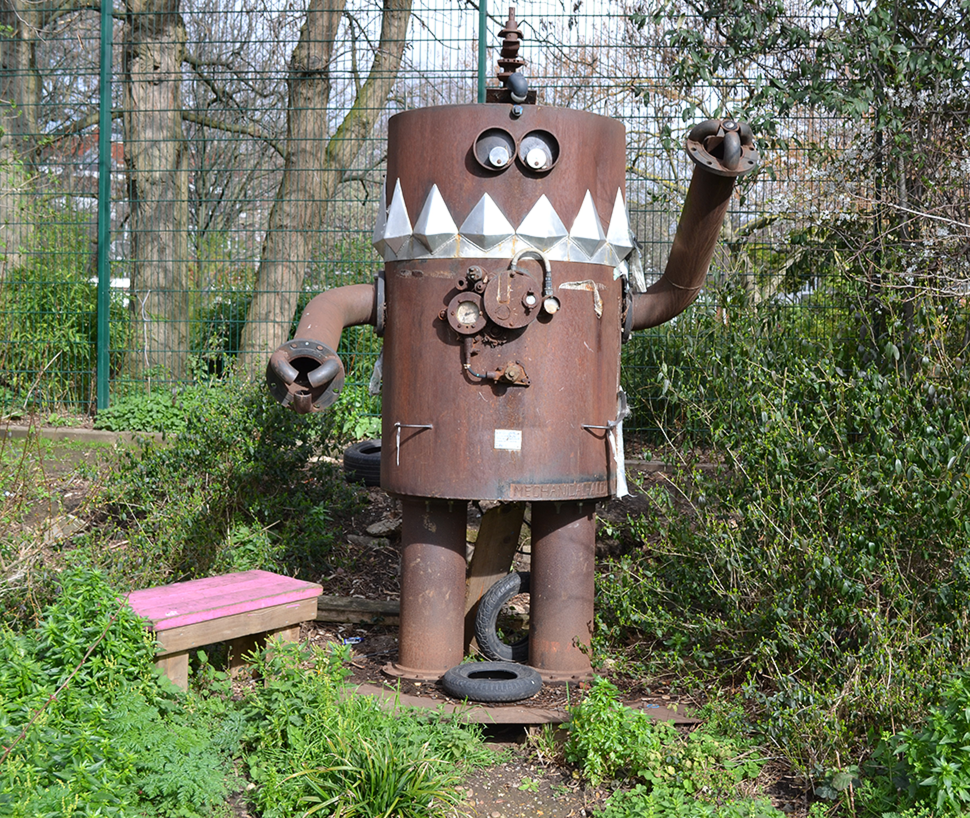 Featuring everything from the 'Be a Pin Up' live pin board by Lulu Guinness which stood in St John's Gate; to the various pavilions designed by GSCE students and Scale Rule which you can read about here
Some of you may remember Bowser, the 9ft 2inches robot that took up residence on Clerkenwell Road; who encouraged people to cycle in the area by offering a free bike rack. Combating the overwhelming 'bikes on railings' in the area and 2 months before the launch of the now famous London Cycle Hire Scheme (Boris Bikes); the requirement for a secure bike rack was at an all-time high.
Bowser was made by the team at Mechanical-Alchemist; a creative metal workers that see character in old metal machinery. Spotting faces on machines is a common place game for them; with a whole blog dedicated to little faces found in tractors or converting old bike parts into bar stools – they simply love working with metal.
In the summer of 2011, one year after his debut at CDW, Bowser had a facelift; removing his bike racks and installing a motion triggered water cannon. He was re-installed in Clerkenwell; at 3 Corners Playground on Northampton Road.
The team recently paid Bowser a visit, and after 8 years the big tin man is still smiling and is apparently a hit with the local kids. Three Corners adventure playground is for 6-13 year olds and is supplemented by a bright, spacious activity centre with rooms dedicated to arts and crafts, soft and sensory play, computers and cooking.
We love that Bowser has found a new home in Clerkenwell. You can find out more on the centre and their opening times here.
CDW are planning on working closer with Three Corners Adventure Playground in the years to come, and we look forward to updating you on this initiative regularly.
Anthony Goodey, Show Manager, CDW.