03 May 2022
The Market Building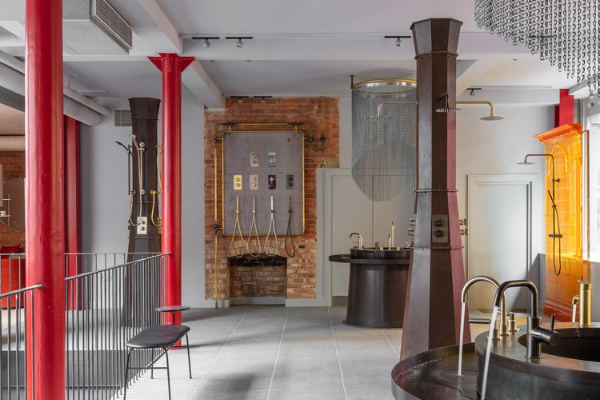 The Market Building unveil an experience-led showroom and co-working space in Clerkenwell inspired by the lost forms of the Industrial Revolution for bathroom brand Coalbrook. Coalbrook takes its name from the town of Coalbrookdale in the Midlands, the site of the world's first iron bridge and cradle of the Industrial Revolution. The design evokes indus- trial forms and materiality: the chimneys which towered over the skylines of cities, the searing heat of the furnaces and engine rooms, and rough chiselled quarries. Blurring the boundary between historicism, decoration and digital process, Holloway Li worked closely with a network of master craftspeople to subvert the materiality of these industrial backdrops, eschewing traditional expectations of a show- room to form a surreal internal landscape.
The space is designed around a series of industrial 'casts', used to display working products. The Ground Floor is designed to appear like a landscape of industrial chimneys, with ghostly casts of Victorian bathroom wall panels in piercing orange and amber resin. The Basement is a dark, watery space with the atmosphere of a subterranean engine room, occupied by two oversized industrial 'boilers' and wall panels moulded from cast iron.
The highly specialised elements in the showroom were brought to life through a series of close collaborations between the designers and a network of master craftspeople. Holloway Li worked with client subsidiary brands Bard & Brazier to design display units fabricated from brass tubing, and with Bard & Blackwood on bespoke joinery. The resin casts resulted from a collaboration with a company who typically make moulded interiors for London buses. Hollo- way Li modelled the traditional form of a Victorian bathroom digitally, which was then cast in amber and red resin.
In the Basement, a collaboration with a foundry in Essex led to a set of cast iron panels which act as the backdrop for working Coalbrook shower displays. The 'chimneys' and 'boilers' in the gallery spaces were fabricated by an emerging metalwork studio based in South London, following research into traditional connection details and surface finishes. Each item was modelled digitally and separated into a kit-of-parts which could be laser cut for assembly. A collaboration with a stonemason near Stamford brought to life a post-tensioned solid stone staircase with a rough quarried edge. Cut off-site from a single block of Limestone and then chiselled on site, the edge profile becomes rougher as it approaches Basement floor, as if hewn from the ground itself.