Milliken's latest collection 'Change Agent' - Where magic magic meets science to create floorscapes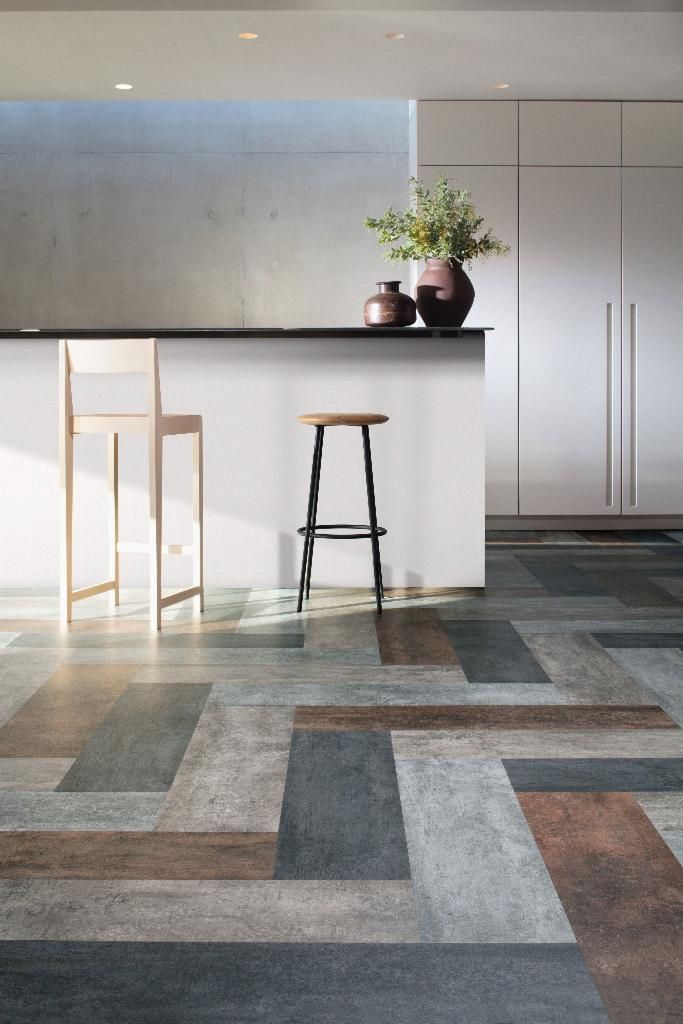 Change Agent has been designed by Milliken's UK design team as a coordinated carpet plank and LVT (Luxury Vinyl Tile) collection. It is made up of two carpet designs: 'Compound Magic' and 'Pure Alchemy' (with 24 colours in each design) and 'Earth Science' (an authentic stone LVT design offered in 10 colours). The LVT colour palette provided the basis for the carpet colour spectrum.
The combined LVT and carpet plank collection and the extensive colour options are perfect for mixing and matching to create a unique and dynamic floor plane that can respond to the requirements of each interior in which it is used and the people in it. Both the LVT and carpet are supplied in an innovative 100 x 25cm plank format which invites creative placement for inspiring patterns or wayfinding.
The artistic inspiration for the collection is metamorphosis - both scientific and magical; the transcendent act of bringing new purpose to natural materials. From alchemy and chemistry the imagery reflects the way base metals can be transformed into precious metals -anodizing, melting, crystalising; always transforming. 'Compound Magic' and 'Pure Alchemy' are influenced by the process of metal encountering a catalyst and being driven to radically change.
The LVT collection 'Earth Science' has the appearance of petrified wood that now resembles stone. The organic pattern of the carpet planks is multi-directional creating pools of changeable colour and tone. The natural colour blending creates a hazy spectrum of hue change and dynamic movement across the floor plane.
The biophilic colour palette has been created with well-being in mind. Natural earthy neutrals and greens to bring the outside in. Inspiration for the colours and the forms comes from the magic of nature and in particular the changes observable over time resulting in colour combinations that have an element of experimental magic. Greens and silvery metallic greys as well as warm pinks and earthy browns. The nuanced patterning and subtle colour range are made possible by using Milliken's unique patented Millitron® printing technology.
Milliken's LVT has additional well-being attributes for improved acoustic performance with a compact cushion layer to reduce impact sound with its FlexForm SoundTM construction. This innovative layer can reduce impact sound by up to 13dB. The 'Earth Science' collection is 'Loose Lay' LVT, created for easy, adhesive free installation and maintenance and is particularly beneficial where regular access to underfloor facilities is needed, such as within commercial environments.
Change Agent is produced using high-performance ECONYL® yarn with 100% regenerated nylon. Offering the same strength and lifecycle as fibre crafted from virgin polymer, ECONYL® fibre is made from a minimum of 50% pre-consumer and 50% post-consumer content reducing resource consumption and waste. Change Agent planks feature 90% recycled content cushion backing. Manufactured in ISO14001 certified location using renewable sources GuT & CRI Green Label Plus certified for indoor air quality EPD verified BRE certified.
---
ABOUT MILLIKEN
Milliken is a leading supplier of floor coverings, with a rich history of delivering dynamic carpet and luxury vinyl tile collections from its award-winning design studios and manufacturing facilities in Wigan, UK. Combining global insight with national expertise and proprietary technologies, Milliken is at the forefront of innovation and design, offering high-performance, expertly-engineered products. Founded in 1865 Milliken has achieved an amazing 150 years in the textiles business and is now one of the largest privately owned companies in the world, providing expert solutions across a range of disciplines, including specialty chemicals, floor coverings, and performance materials.
With over 100 years of environmental stewardship, the Milliken family of companies is one of the world's most responsible manufacturers.
Designing innovative products and solutions for our customers is of the utmost importance. Through meaningful design, deep science, and unique insights, we advance product development to the next level, while supporting Milliken's efforts to increase sustainable results and minimise environmental impact of all products. Milliken's holistic approach to innovation encompasses all stages of the life
cycle -from material sourcing and manufacturing practices to end-of-life management. Our commitment to transparency, health, safety, quality, and sustainability allows us to put our customers, associates, and communities first. In 2019, Milliken was named one of the World's Most Ethical Companies by the Ethisphere Institute for the thirteenth year running.
---